Position : Home > News&Events
Inheritance of Ingenuity,Beginner's Mind Dream Weavers¡ª¡ªResearch Activities of Che shuang Subject Research Institute of Tanghu Primary Education Group
Time:2019-09-29 10:12Writer:¶¡Ü½ÈØ Click: times
Summer is gone and early autumn is coming. On the morning of September 20, 2019, members of the Che shuang subject research institute of Tanghu primary school education group gathered at Tanghu primary school to carry out research activities in the new semester. In this activity, everyone observed the tutor's picture book teaching class, and under the leadership of the Ms Che, planned the study work of this semester.
At the first activity of each semester, Che Shuang teaches demonstration courses for the students, and this semester is no exception. We went to class 2, grade 1, and read the picture book "little monsters go to school" with the children. Ms Che based on the first grade learning, chose such a picture book that suits children's new entrance. From the reading books, we can see that Ms Che has well-chosen a suitable book for children to read, which will attract the children's attention and stimulate their interest in reading. This is a co-reading class of picture books, which is mainly about the teacher telling stories. Based on the fact that the students' literacy is in the initial stage, Ms Che did not involve in the literacy process, and set the goal of co-reading as "To have a preliminary understanding of the composition of books and stimulate students' interest in reading picture books." Ms Che emotional read picture books with the children, from pictures to words, and then from words to pictures. She guided the students to observe the pictures consciously, guess the plot of the story, and stimulate the children's expectation of reading. The whole class was full of children's interest and full of reading atmosphere.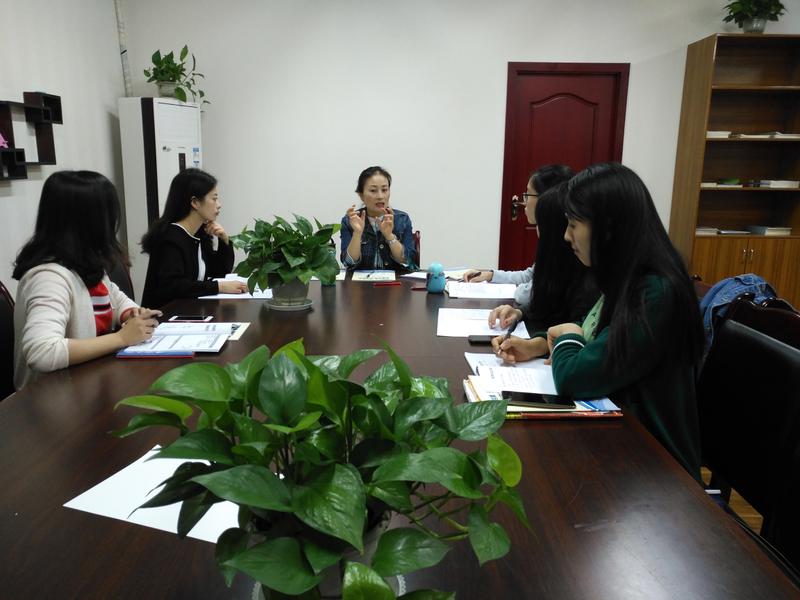 After the class, the members came to the reading workshop. Under the guidance of the tutor, they discussed the teaching of picture books, expressed their opinions on the teaching of the whole book, and discussed the teaching mode of the whole book. Then, in the teacher's arrangement, they combine the research topic of the elementary research on the practice of the whole book reading strategies planning activities and this semester work arrangement, the understanding of the students in the teaching of the whole book confusion, focusing on a more specific point, try to solve those problems in the late research activity.
Classroom is the base of the teacher, all teaching activities are realized in the classroom. With the tutor hands-on research and learning activities, helping students to build a better future!