Position : Home > News&Events
Do not forget the original ideals and aspirations, continue to move forward-Shuangliu Duan Xu Ming head teacher's studio research activities and student graduation ceremony
Time:2019-05-27 22:36Writer:刘佳瑶 Click: times
This May unfolds bright spring , all under heaven are full of enthusiasm and vitality. On May 7, we gathered at Tanghu Primary School in Shuangliu District to celebrate the graduation ceremony of the studio's most special day of the year. We felt so honored to have invited Principal Li Shunrong and Director Lei Chaoli of Tanghu Primary School to be our supervisors.

This activity by student of the studio _Mrs You Hui as the host. Time flies, the years are in a hurry and the second group of students of the studio finally graduated smoothly. Three years of closely associated, along the way there have been hardships and tears, flowers and fruits. With the music slowly sounded, Mr Huang Yi and Mr Gao Weixiao will tell their graduation feelings, sharing those elapsed happy time and recalling those remote learning process; moving by the harvest of growth and happiness. Whether it is the improvement of professional ability, the development of reading ability, the improvement of classroom teaching and class management ability, or the persistence of educational belief, or the habit of lifelong learning, everyone is grateful for this spiritual and intelligent home that gives themselves growth.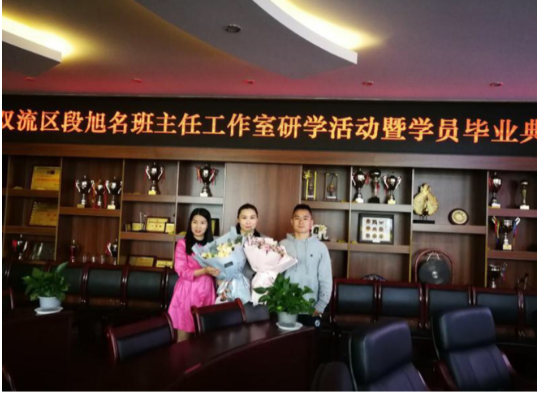 Every honors that we gained,like a passionate song,give our students that studied here a sense of happiness. We were deeply moved. Director Duan said:even graduating, we must be a homeroom teacher that is a book lover and loves education affairs with proactive attitude, broad mind. he also expected that every members will move forward on their new journey and meet a new oneself.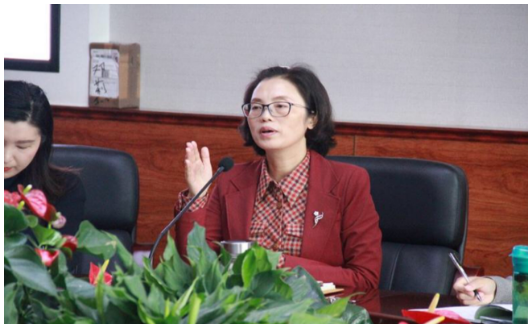 Filtered by this atmosphere, Li Shunrong and Mr lei ,the headmaster and directed of Tang Hu Primary school also highly spoke of this activity and gave their guidance for the future work and development.

Principal Li Shunrong is very pleased with the development of the studio. Through three years of study, the class teacher's professional skills and their own professional literacy have been improved, and the students' speeches are brimming with self-confidence and happiness of growth. She sent four best wishes to everyone.
Firstly "it's good to have you"-mentors and partners are the precious "you", the "you" who shared the same aspirations with us, and the "you" who encouraged our progress. It's good to have you.
Secondly, "do not forget the original ideals and aspirations"-I hope that graduates will not forget why you joined the studio, you came here for learning professional knowledge, finding the true meaning of education and feeling the personal charms of mentors. They should accompany us in the future.
Thirdly. "learn to put knowledge into practice"-the way to learn, including read educational books, watch famous experts demonstrate, or listen to expert lectures. No matter what general way of learning, we must apply what we have learned and go into action.
Lastly, "move forward with strength"-a powerful teacher must have a firm vision and a firm professional belief. Graduation is not the end but a new beginning. I hope the graduates can become themselves and pass on their strength.
With the original intention,Duan Xuming's head teacher's studio is to lead and drive a group of excellent teachers to grow continuously and lay the foundation for double-stream education. Director Lei also hopes that all members of the studio will continue the positive energy of the studio and be persistent, responsible and determined to adhere to it.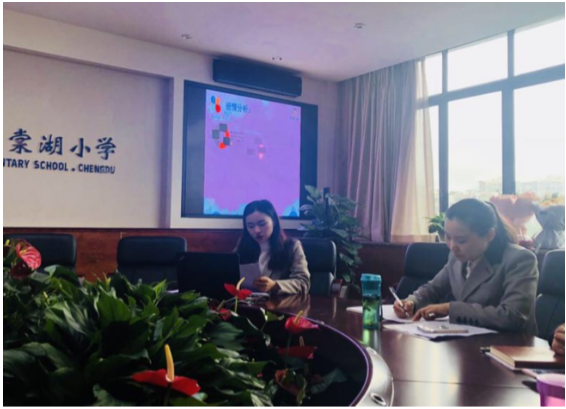 Finally, Mrs JiangWei presented her strategies: Build the class with all of our strength to make our students grow better. she made her plan and adopted strategies according to the real
situation of classes to help students become an excellent person and the classes become an workharding groups.
On the most beautiful May days, we will improve our ability and keep in mind our original intention and keep going, growing happily and making progress